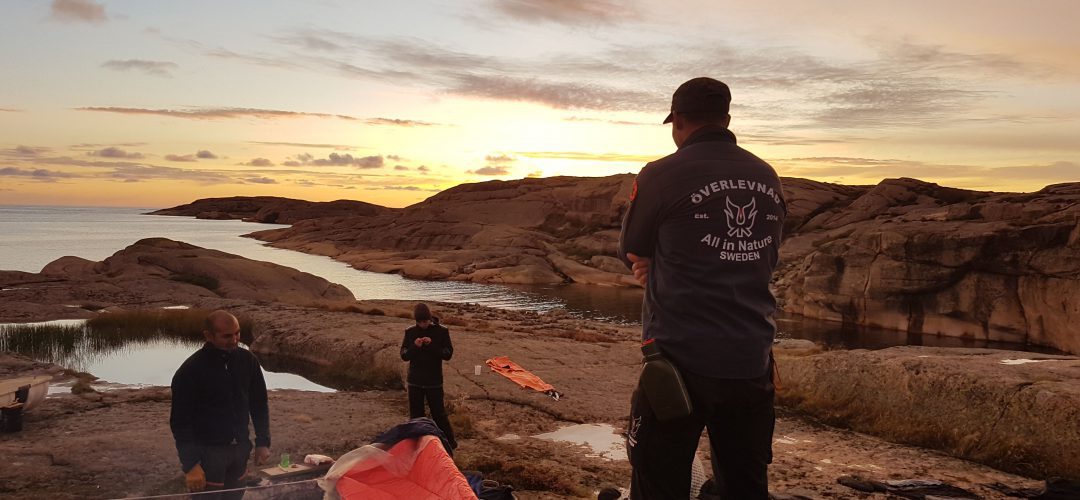 Skärhamn, Tjörn County, Sweden
 2024 – 5/9 kl 13:00 – 8/9 kl 13:00
This is an extra ordinary course were we offer three days of survival training in coastal environment. Surviving in a coastal environment has its advantages but certainly also its challenges. Here we challenge ourselves by, with minimal equipment, surviving three intense and exciting days.
The course is conducted exclusively outdoors and theory is mixed with a lot of practice. You will get the opportunity to try your newly acquired knowledge under safe conditions, by yourself or with your group with our experienced instructors close at hand. For our help, we have invited some of England's best instructors when it comes to coastal survival. With the sea as our neighbor, salty winds and weather-beaten cliffs as a classroom, we dare to promise that this will be three days you will remember for life.
If you complete this course you will be approved as a "Coastal Survivor" and if you also complete the Complete Hunter Gatherer 5 days bushcraft course you will receive the Coastmaster patch. 
The Complete Hunter Gatherer 5 days bushcraft course is conducted at our partners in England and Scotland, but may also come to Sweden in the future.
We will cover the following topics:
Survival kits
Coastal terrain, including tides
Protection against the elements (weather and wind)
Identify hazards at sea and on the coastline 
Basic first aid – "Stop the bleeding"
Fire for cooking and heating
Find and clean water
Wild plants and its use
Fishing, collecting and preparing
Physiology – the body's reactions in water and in case of drowning
Psychic reactions
Basic compass navigation.
Distress signals
And a lot of time for you to practice all your new skills
Level of difficulty
No previous knowledge is required. But we will be outside for three days straight. You need to be in physical good shape to walk for one hour with your back back in sometimes rocky environment and difficult terrain.

The course is suitable for any beginner. The course is slightly easier then our three-day BAS survival course in the forest terrain. In this course you can for example bring a tarp, a sleeping pad and a sleeping bag as well as a small ration of food.
You will also receive a recommended packing list of clothes and equipment well in advance of the course.
A Short film by our partners from Coastal Survivor 2018