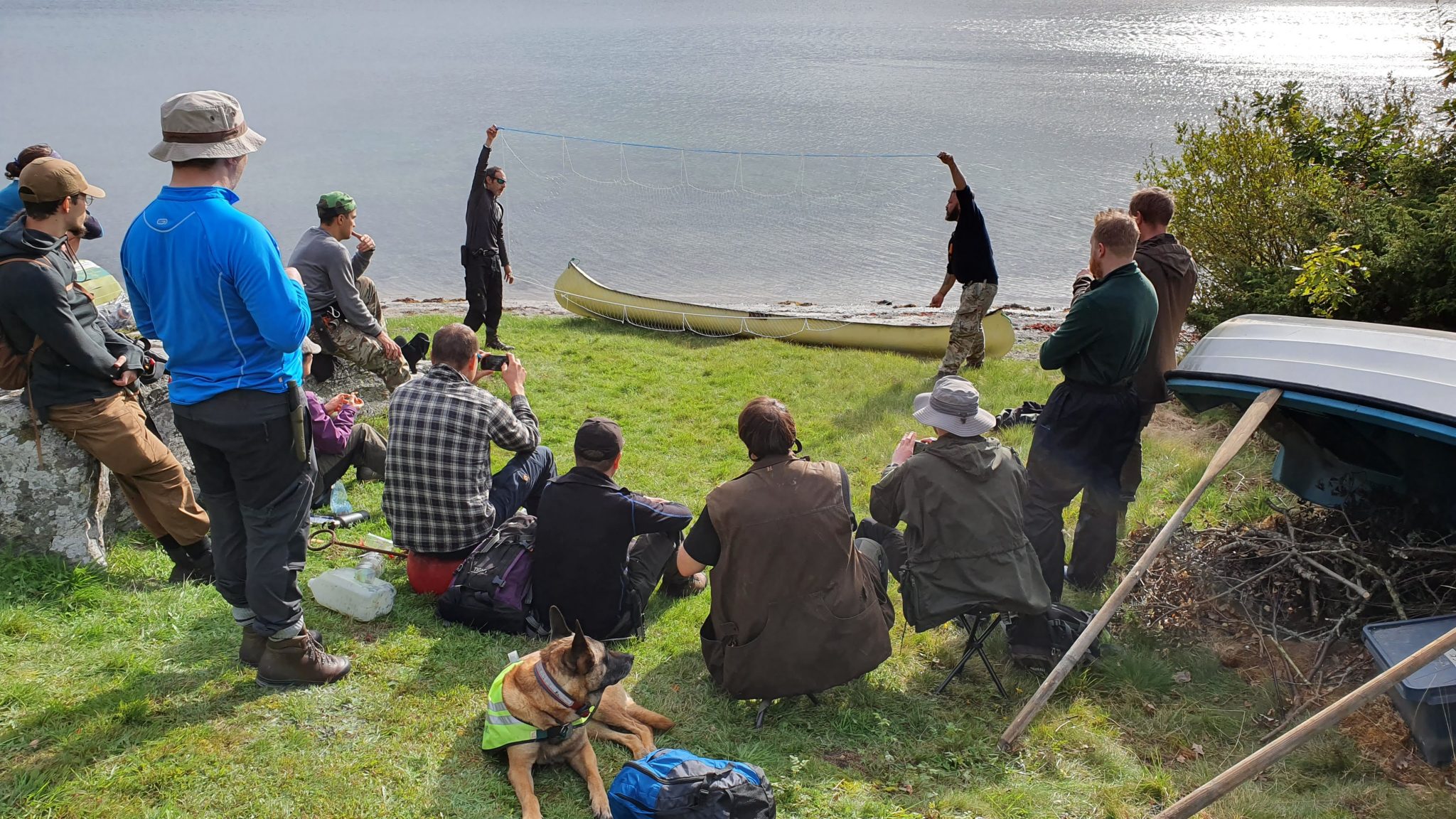 Skärhamn, Tjörn County, Sweden
5 days / 4 nights / 101 hours
8075 SEK / £ 625 per person 
NOTE! If booked together with "2 days Complete Coastal Survivor (ENG)" then you will receive a 1110 SEK / £ 86 discount on this course. Total price for both courses is then 11240 SEK / £ 899.
Year 2020: 26/8 9:00 am – 30/8 14:00 pm
Coastal Hunter Gatherer Course is a 5 day bushcraft course in the west coast of Sweden.
Modern and Primitive coastal bushcraft skills give you the complete coastal hunter gatherers skill set, learn to live off the seashore where you can thrive rather than just survive.
This unique coastal bushcraft course is a must for all coastal foragers and hunters. Full packed days of practical well practiced skills and proven results!
Forage, fish and hunt along the seashore, living of what you catch and forage using many methods and skills, this uniques course is a total immersion in the complete coastal hunter gatherer skill set
The skills you experience on our advanced bushcraft skills course
Thel course, will give you a chance to practically master the following skills and sea you thrive, rather than just survive!
Coastal fishing with and without fishing rods,  many techniques are covered with kit we will provide you with, some you make may be taken home with you after the course to build on your coastal kit.
Making net starting with fishing line and beach rubbish, then professional net construction including gill nets for round fish and tangle nets for flat fish.
Long line construction and use, both modern and primitive skills are covered with aquiring local available baits and how to use them.
Setting longlines, nets and traps, learning the where, when and how.
Finding local available baits and how to best put it on the hooks is a detail that like others greatly increases you chances of a catch.
Fish and shellfish traps (that work) made from beach rubbish and natural materials and resources. Make your own willow shellfish and fish trap.
Identification of seaweeds, how and when to harvest them along with cooking and drying.
Identification of fish and shellfish along with coastal wild life.
Identification of coastal plants.
Foraging for coastal and inland plants, then how best to eat, cook and preserve them.
Cooking and preserving on an open fire with and without modest utensils.
How best to prepare and cook the wide range of wild food with basic equipment to produce resturant quality food for your self and the group.
Salting, cold and hot smoking meat and seafood.
Coastal safety and navigation, understanding tides, winds and ocean currents affects.
First aid and medicine from wild resources
What do you need for the course?
Skill level required – you should be confident and experienced to wild camp with limited resources for 5 days and able to perform basic tasks confidently in all weather conditions, with adequate kit suitable for the season.
Catering and accommodation: you are required to provide your own breakfasts and lunches using your own cooking system – evening meals are provided and incorporate a mix of what you may have foraged, caught or prepared. Fresh water will be available for drinks. The sea we use for washing up. Tents are recommended and you can park fairly close to your pitch, free wild camping is in our private coastal meadow. Toilettes we can not quarantee but we arrange that issue at scen.
Course must be payed in advance invoice will be sent to you
Spaces  limited to 12.
Comfort zone rating:
Accommodation – your own tent or suitable sleeping system.
Washing facilities – your own system and the sea.
Cooking facilities – Evening meal provided and your own self fuelled system for breakfast and lunch.
Water – on site ground sourced unfiltered spring water or similar.
Food provided – outdoor prepared, wild and basic pantry stores.
Parking facilities – on site feild parking.
Person fitness – Walk a shorter distance with your backpack and foraging during the days