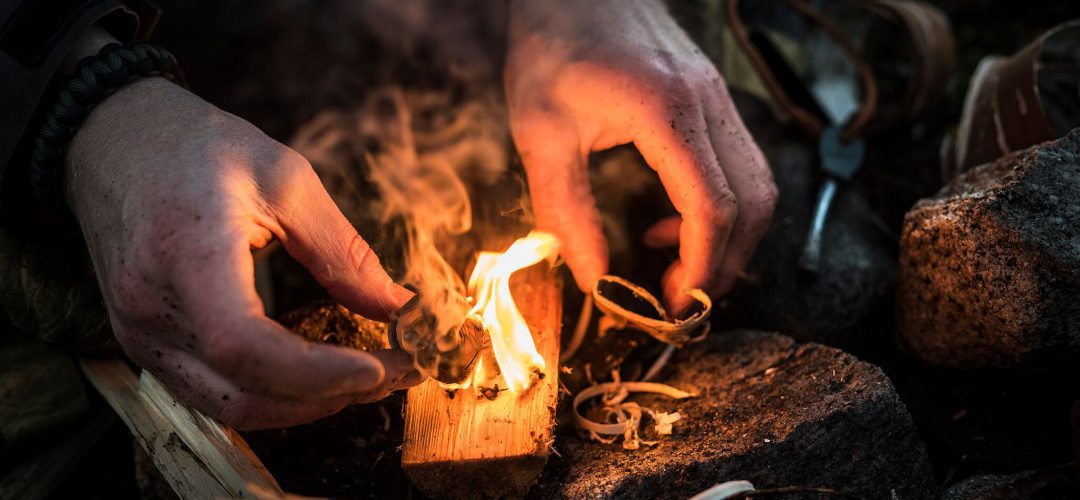 845 SEK per person
2024 the price will be 895 SEK per person
Children age 10-14 years can also participate in the course accompanied by an adult. We give you a 25% discount for the child.

Welcome coffee and lunch are included.
2023 – 25/11  09:00 – 15:30
Fire course Autumn (ENG)
(The course is conducted in English)
This is a fire course for you who want to be able to make a fire in any weather with wood you pick directly from nature. We also teach you how to use a modern fire steel.
Our fire course gives you the basic knowledge you need to be able to practice further on your own. Once you have become confident in making fire, the knowledge can be the difference between life and death if an emergency situation falls upon you. Not to mention how cozy it is to be able to gather around a fire in your usual outdoor life.
The fire gives warmth to a frozen body and security. But it also provides the opportunity to dry clothes, cook, clean and boil water and to signal your position to the surroundings. The fire brightens your outdoor life and you can gather your friends and family around it to hang out and cook your lunch and make your coffee.
Our 1-day fire courses are conducted during all seasons of the year and regardless of the weather.
We offer an educational and fun day together in the forest and the time of year for the course sets the scene and the conditions.
Welcome! 
How to create a fire from scratch from what is found in nature depending on the season.
Demonstration of different kinds of kindling, as well as how to find dry kindling and firewood.
How to use a knife and a modern fire steel, ((other methods are mentioned only if we have time).
Keep the fire alive long enough to cook a light lunch, which is also included in the course.
Fire safety and construction of a safe fireplace.
The public right (allemansrätten) to make a fire and pick firewood.
The usefulness of fire in outdoor and survival contexts.
You don't need any prior knowledge.
However, remember to have clothes according to the weather and leave the most delicate clothes at home.
Feel free to bring your own knife and fire steel to test during the fire moments, otherwise you can borrow from us. 
A folding chair, gloves and a small sleeping pad can also be good to have with you.
Long after a fire has burned out, embers remain in the fireplace. This is because a layer of ash often forms over the coal, which prevents the supply of oxygen and prolongs the time that the pieces of coal lie smoldering. By putting some dry kindling, grass or, as in the video below, thin wood chips on the embers, you can by blowing on the embers make it so hot that flames can start again. Doing it this way works on many different types of "kindling" but not all. For example, birch bark are actually pretty hard to fire by just blowing on them. A hotter spark is needed for that, which you can get, for example, from a fire steel.
Watch the video below to see how you can blow life into the fire again with the help of a so-called "feather stick".
Once you have learned to master the fire, you can sit and enjoy the heat while the coffee boils. The film below was taken one hour before the course participants came out to us in the forest in the winter of 2019